Children's Chapel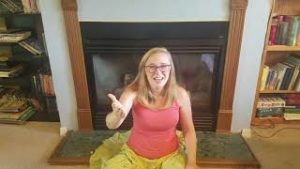 Every week, Hannah Graham, Director of Christian Formation, invites families to worship together in Children's Chapel.  This weekly video explores the Gospel story of the week, a short sermon, a creed, prayers and an activity.  All Chapel videos are posted on the St. Andrew's YouTube channel.
Daily Devotions and Bible Study
Weekdays from 8:30 AM – 8:55 AM, adults gather on Zoom
See the events sections of our Facebook Page for Zoom details.
Reading with the Rector
This book group meets on Zoom every other week to discuss different books and how they impact our lives.  For more information on the current selection, click here. .
Sacred Ground
Sacred Ground is a film- and readings-based dialogue series on race, grounded in faith.  Small groups are invited to walk through chapters of America's history of race and racism, while weaving in threads of family story, economic class, and political and regional identity.
The 10-part series is built around a powerful online curriculum of documentary films and readings that focus on Indigenous, Black, Latino, and Asian/Pacific American histories as they intersect with European American histories.
Sacred Ground is part of Becoming Beloved Community, The Episcopal Church's long-term commitment to racial healing, reconciliation, and justice in our personal lives, our ministries, and our society.  This series is open to all, and especially designed to help white people talk with other white people.  Participants are invited to peel away the layers that have contributed to the challenges and divides of the present day – all while grounded in our call to faith, hope and love.
Sacred Ground was a meaningful experience for me. I thought of myself as a well read person with a broad experience in life. Even so I was constantly chagrined at the gaps in my knowledge of race in America. The readings and the videos challenged my assumptions.  The group provided a safe environment for discussion of sensitive topics.  The life experiences of other members of the group enriched the discussion immeasurably.  It was a large time commitment but worth every minute.

Peter Radue, parishioner
We also offer  EFM (Education for Ministry).  EfM is a 9 month curriculum for adults who want to learn about the Bible, Church History, and Theology. It is college level reading and discussion, and practical skill building around Christian identity and spiritual growth, while reflecting on the ways God is at work in the world around us.  Find out more about EFM here.  The 2020 – 2021 EFM class is closed.  Please contact the office if you are interested in the 2021-2022 year.