June 21, 2015
Sermon by the Rev. Dina van Klaveren
I took four 9 year old girls to the movies to celebrate the end of the school year- finally!
We saw Inside Out – a story about the emotions within us that work to stabilize us as we face choppy waters. The main character in this animated film, Riley, has a big life issue to face at the age of 11, and the main emotions personified by colorful cartoon characters in her mind, are struggling to keep her afloat. There's fear and joy, anger and disgust and sadness, all working to regulate Riley's well-being. It's a WONDERFUL MOVIE and every one of every age should go see it, mainly because it's a story well told that also gives us new language as a culture about what's going on inside of us to regulate our behavior. It's brilliant.
We all face choppy waters from time to time, metaphorically speaking. Sometimes we even face tsunamis that threaten to wipe us out for good.
One wave really rocks us, and multiple waves can sink a boat- while we tip over with the instability of the first wave a second wave washing over our tipped decks and we take on too much water.
Over the past several years, there has been a series of waves directed at innocent people that have rocked our boats – a movie theater, a college campus, an elementary school, now a church.
The wave this week rocked most of us pretty good. As faithful people gathered to pray and study the Bible on Wednesday evening at Emanuel African Methodist Episcopal Church in Charlestown, SC, another wave of violence and racism rocked the nation. It's unthinkable to suffer such a tragedy in a place set aside for love, hope, charity. So much pain and evil and chaos in a space hallowed by praising God, and praying, and studying scripture.
The development of the African Methodist Episcopal Church is a part of American history, and it is part of the history of the Episcopal Church. Each February 13 the Episcopal Church honors the legacy of The Rev. Absalom Jones, who in 1804 was the first person of African descent to be ordained an Episcopal priest. He was really a Methodist preacher, who got up and walked out of St. George's Methodist Church in Philadelphia with others after being told he had to go up to the balcony section rather than kneeling and sitting on the ground floor with whites.
He was a very active abolitionist presence in Philadelphia where he had a congregation, and petitioned US Congress regarding the Fugitive Slave Act of 1793. Absalom Jones used the morality of Christian faith to show members of congress and other white-skinned people around him that the enslavement of people was immoral and offensive to God the Creator, and it was contrary to the ideals of the United States. Sadly, he was often rejected, along with his petitions.
The church founded by Absalom Jones' friend and fellow founder of the Free African Society, The Rev. Richard Allen, was called the African Methodist Episcopal Church, and its mother church is Bethel AME in Philadelphia, founded in 1816. After St. James Episcopal Church in Baltimore, Emanuel is the next oldest black congregation south of the Mason Dixon line. Its founding pastor, The Rev. Morris Brown, was ordained in Philadelphia and worked alongside Richard Allen and Absalom Jones. Emanuel AME in Charleston SC has been a critical place of safety throughout the waves of racial injustice and the struggle for civil rights.
And now this tsunami of violence, washing over the bow and the stern of the boat, the Church.
The church is often been imaged as a boat, that's why the inside of the church is called a nave, as in the word navy and naval. And the boat has been through a storm of epic proportions this week. So much pain, violence. In a place offering liberation, one person walks in and delivers evil and chaos.
We are wise to remember that despite the tsunami rocking our boat, even as water fills the decks and we can feel it sinking, even still, God is graciously working out our salvation. Somehow, God is working out our salvation, even though we may not know how. Let us pray that God reveals God's salvation and healing love for the people of Emanuel AME as they gather for worship this morning. Let us learn from this violence – let us learn to reach out to young men who are disenfranchised and confused enough to buy into the lies of racism, let us befriend young men who feel rejected and seek some way to blame and punish others before they do these crimes. Let us befriend and let us love them into community before they take steps to destroy community.
I wonder if all the perpetrators of these violent crimes against groups of innocent people over the years shared some sense of feeling lonely, rejected, isolated, misunderstood and undervalued. I wonder if we are called to reach as many young people as possible – especially loners and kids who reject our efforts- in order to befriend them and teach them to persevere, and work things out responsibly, rather than to lash out in a violent rage toward others.
We all know what it feels like to be lonely, to feel forgotten or betrayed. It's painful. Christians and all people who trust in God must work together to reach these young people and offer a listening ear.
It makes a big difference to have someone listen to you. To have someone sit next to you and listen, and nod, and say, "That's awful. I'm so sorry." To have an empathetic ear that takes the time to hear your experience as you name your pain aloud, to respond, "You must really be hurting. I care about you, and I'm sorry you are hurting so much." An empathetic ear can make a big difference, it's the opposite of loneliness.
In Mark 4, the disciples feel overtaken by the evil and chaos of the storm, and worry that Jesus is ignoring their cries and panicked efforts.
In the world of the disciples, the sea represents evil and chaos, just as the boat represents the community of Jesus followers. I don't think Jesus is sleeping down below because he doesn't care if we make it through the storm.
He's sleeping because he completely trusts in this working out of salvation.
This story invites us to trust in God amid life's turbulence. Amid even the tsunamis.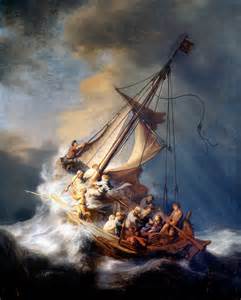 **Rembrandt painted a stunning interpretation of this scene. The waves catch the light and are, visually, the focal point of the work–high, bright, curling over a tiny boat full of panicked faces. You have to look for a moment before you see Jesus, nestled in the dark, in the stern. Does he not care that we are perishing? You can hear the disciples shout.
Why are you afraid? Jesus says, and Christians have recalled his words in times of trouble ever since. Well, Jesus. I thought you'd never ask.
We're afraid, cry the people of God, for a lot of reasons. We're afraid because in case you haven't noticed, the waves are impossibly high and this particular boat is filling up with water. We're afraid because finding our place in the world is harrowing, at any age. We're afraid because so far, nothing that we as humans have been able to find or build has ever been guaranteed, or permanent. We're afraid because we live in a world where a job, a home, a loved one can be lost. We're afraid that we're not enough. We're afraid that we'll let down the people we love.
We're afraid because of the violence in a place where people gathered in your name. We are afraid to have to reconcile this with our lives, with our own emotions, and with our own faith.
Julian of Norwich writes, "If there be anywhere on earth where a lover of God is always kept safe from falling, I know nothing of it, for it was not shown me. But this was shown: that in falling and rising again we are always kept in the same precious love."
The voice that "speaks" peace to the sea and storm is a voice we have heard ourselves- it's a voice that say's to us "Follow me." It's the voice that calls each disciple, "Follow me."** That's the mark of a good disciple in Mark's gospel: following Jesus. Follow that voice that calms the storm says to us, "Trust me. I will work out salvation in this difficult storm – you will be saved. Trust me."
A way that we trust in God is to cry out to him, to wake him up if he seems to be calmly sleeping as we struggle and face wave after wave in life. In the hymn "Eternal Father, Strong to Save" – which is sometimes called the Navy hymn, and we sang it quite often at my last parish which was in Annapolis- each of the first three verses end with "Oh, hear us when we cry to thee for those in peril on the sea!"
When we are threatened by storms, by waves of violence, by waves of intolerance and hatred, by waves of human frailty, by waves of transitions and losses, we know that we can cry out to God and rely on God's working out of our salvation, we can rely on the one whom even wind and stormy sea obey.
We can trust in God.
Those in peril on the sea, that's all of us, at one time or another,
rocked by waves and struggling to survive.
We cry out to God,
and we trust that God,
who is strong to save,
will indeed act to save.
Note-
** The section between the ** indicates content used with permission from the inestimable Rita Yoe, fellow preacher today.